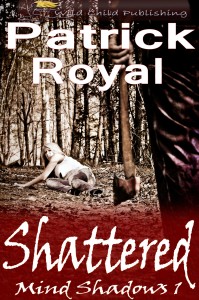 The only thing that multi-published, award winning horror author, Tom Elliot, wanted was to move to the country for a change of scenery and relaxation, to a quiet part of southern Illinois. It seemed he'd picked out a wonderful spot, miles away from the closest neighbor and even further away from civilization.
Tom couldn't write to save his soul. Weird thoughts trampled through his head and left him wondering if he'd made a mistake moving from Chicago. Could it have been that he ripped himself from his element, like his best friend, Michael Gully, had predicted? That he couldn't answer yet.
Words came and flowed like wildfire, but at what price? Tom's imagination was getting the best of him and running rampant. The very characters that he created tormented him, driving him mad where he couldn't distinguish fiction from reality.
Excerpt:
His mind swam with thoughts about his story, always struggling to fall asleep when starting a new novel; too many thoughts playing like a movie in his brain. His eyes drooped heavily.
A child's scream sliced through the air and filled the house.
Tom sat up and opened his eyes abruptly. "What the hell was that?" he whispered in the dark.
A crash sounded.
Tom turned his head in the direction of the door. His heart thudded deep in his chest. He stared through the doorway that led into the next room. Blackness dominated the house. He leaned toward a nearby table and switched on a lamp; amazingly, nothing appeared out of the ordinary. Tom rolled out of bed and took slow steps, searching for what made the ruckus. The first thing that came to mind was that an animal might have gotten into the outside garbage. But the noise sounded as if it was inside the house. Maybe, a raccoon had broken in. Yeah, that's what it probably is. He hoped.
Tom didn't find anything out of place. Chills ran up his spine to the back of his neck. He didn't understand. How did he hear all that noise when nothing appeared wrong? Did he dream it? Maybe…
Patrick will be awarding a $10 Wild Child Publishing GC to a randomly drawn commenter during the tour.

My Review:
Shattered is a story about a horror writer forced to confront the creations of his mind in the real world.
Horror writer Tom Elliot has moved to the country.  Haunted by a horrific childhood, he is puzzled by mysterious happenings that seem to parallel events of the stories he is drafting.  Slowly the events begin to follow him from his lonely cabin into the neighboring town, with terrifying consequences for the lives of those he encounters.
I enjoyed this intriguing tale as it passed between dreams and events that began to mix reality and intrusions of his imagination into the real world.
There are a few dream sequences, but these are short and it is clear that these are dreams, so they don't interfere with questions about the veil being pulled between the world of Tom's imagination and the real world around him.  The novel's crucial question becomes:  can the events of  Tom's story world entrap others?  There is a surprising twist that adds layers of mystery to this novel and sets Shattered apart from similar works, leaving the reader uneasy, questioning and thinking about the novel after it has ended.
I received a free copy of the book in return for an honest review.
Tags:
Goddess Fish tour
,
horror story
,
Patrick Royal
,
Shattered